Loose Ends is everything garage, punk, post-punk and wave. Collaborating with the partners who know what good music and good fun is, we bring you the best and most in your face legends of the scene and up and coming bands we think you should see.
TIMETABLE 2019
Time to slap this into your calendar: the timetable for Loose Ends is here! Take a look at the three stages: Main, Tent and Outdoor and plan the **** out of the day.
YEAH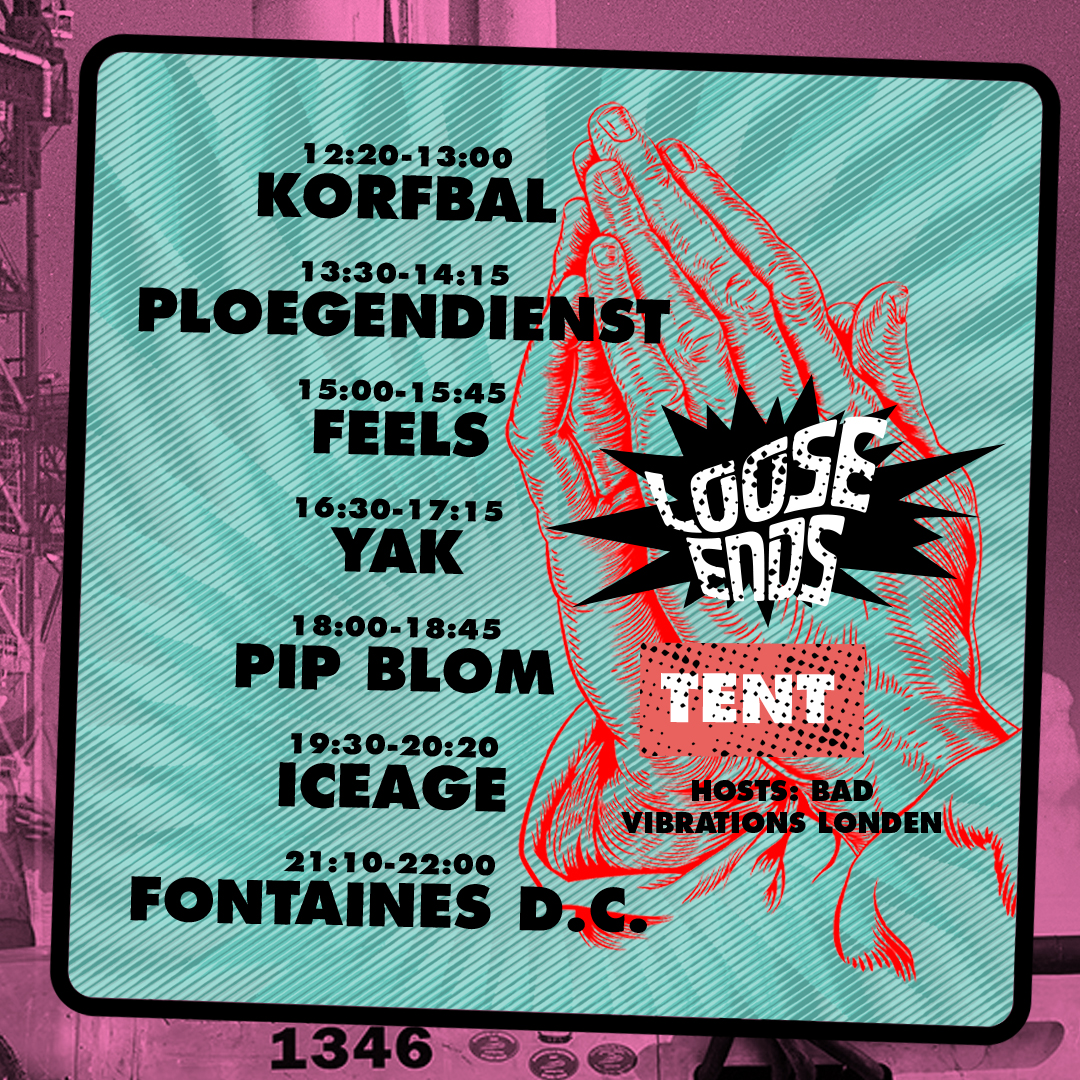 YEEEEAAAAAAHHH
YEEEEEEAAAAAAAAAAAAAHHHH
LOCATION
NDSM Amsterdam yo.
MORE ON LOCATION AND ACCESSIBILITY
TICKETS
To make this thing work we need to sell some tickets so here it goes:
Limited Early Bird Tickets for Loose Ends have completely sold out within two days. Regular Tickets are now on sale for €45 (excluding €3,75 service fee and transaction fee).
We teamed up with the following locations where you can purchase hard copy tickets:
Skatecafe Amsterdam: Gedempte Hamerkanaal 42, 1921 HM Amsterdam. We recommend their food and parties. Both are siiiiiiiiick.

Velvet Music, Amsterdam: Rozengracht 40m, 1016 NC Amsterdam. Velvet Music Amsterdam just celebrated their 5-year anniversary and trust us: nowhere in the capital you can buy your records in such a relaxed, warm atmosphere. The best news: they sell tickets for Loose Ends as well!
Elpee Groningen: Oosterstraat 45, 9711 NR Groningen. One of the best records stores ever. period. High fives all around.
Loudmouth Utrecht: Oudegracht 10, 3511AM. The one who listens to us moaning about how the designs for the posters are not good enough. General good guy with A+ music taste. Ask him how he's doing. He's renovating his house and apparently it's a nightmare.

Of course, you can also buy your ticket online:
MERCHANDISE
Awesome merchandise on sale now!
At the moment, unfortunately only creditcard is supported at Big Cartel. Do you want to buy merchandise using a different payment method? Please send us an e-mail at shredder@looseendsfestival.nl.
F.A.Q.
Loose Ends? What's that?
It's a festival. We could tell you a lot more, but you know the drill. Bands, beer, friends and whatnot. Only difference is that this one's WAY more awesome. Check the merch for proof, and wait until you see the line-up…
Where can I find Loose Ends?
The NDSM-werf is where the party is at! We tried to find the most raw and awesome location for this festival and we like to think we succeeded. There are a few options on how to get your ass to the festival. By bike, by foot, by car, by bus. We recommend you to travel by bike to the festival as it is the fastest route. Find all info on how to get to Loose Ends here.

Right. What are the opening times?
The festival site opens on Sunday June 23 at 12:00 and we will kick you out again at 23:00.

Ok. Well, where can I buy a ticket?
How about through this website. Or do you want an old-school physical ticket? We got you! Please visit Vera Groningen, Loudmouth in Utrecht or Skatecafé in Amsterdam if a simple PDF isn't enough for you. Tickets are on sale NOW here for €45,- (excluding € 3,75 service charges). Oh, and you can also buy a ticket through our official partner Festicket.

Please avoid anyone else who tries to sell you a ticket. They are cowboys. Yeah we're talking about you, TopTicketShop.
I lost my ticket. Now what?
You're screwed. We truly hope the person that found it is cooler than you and has a lovely time at Loose Ends. No seriously, go to 'My Eventim' at the website of our awesome ticket partner Eventim (S/O to Holland Zingt Hazes) and log in to your account. Go to 'My tickets' and click View status/print tickets to open your Ticketdirect e-ticket, which is listed next to your Order Number. Here you can find all the important info regarding your order. You can (re)print your tickets or save them on your computer.
If there's no order number listed, or you have any other ticket enquiries, please give the lovely people at Eventim's Customer Service a call at 0900-1353. And yes, they charge you for that. €0,45 p/m. Shouldn't have lost your ticket then.
Sounds nice and all, but I'm not ready to get deaf just yet.
Even though we are keen to abide the law enforced noise limits, as you probably expect there'll be some loud f*cking bands on the line-up. So when you're near one of the stage, better wear some earplugs if you cherish your ears. We'll even sell them at the festival, in case you forget to bring them, because we love you. At ILoveMyEars.nl you can find some useful tips on how to protect your ears.
Will there be lockers as well? I love lockers.
Of course, there will be lockers right at the entrance. They have the same size as any locker you know from previous festivals you visited. So don't expect to jam your suitcase into one, but for a coat, sweater or small bag they will do just fine.

Can I leave the festival site and then come back in?
Unfortunately not, we don't have wristbands so that means if you exit the festival site, you can't go back in again.
What are your festival rules?
In short: don't be an asshole. We don't tolerate any form of violence, discrimination, harassment or otherwise offensive behaviour whatsoever. Please follow all instructions from the organisation and/of security staff during the event. If you feel unsafe in any way, please go to the nearest Best staff member and tell them you're not ok. They will take care of you and get you out of the crowd, no questions asked. The complete festival rules can be found here.
I want to read some really long-winded, boring stuff. Got any recommendations?
You know we do. How about our Terms & Conditions? If you take a Xanax at just the right moment before reading it, this stuff really kicks in. Seriously. Not done yet? Man, you're tough. Ok, try reading our privacy statement. If you finish that one without falling asleep, you'll probably be so bored you'll start your own band and write tunes about it. If you need a break, feel free to take a cookie. Nomnomnomnomnomnomnom.
Can I take my medicine to Loose Ends?
Please only bring medicines in their original packaging along with an official medical certificate, provided by your doctor.

Can I return my tokens after the festival?
No, we don't take back tokens. This means you need to spend them before 23:00, all bars close together with the rest of the festival at 23:00.

Help! I lost my keys/wallet/dignity
Lost something at the festival? Check the iLost website to see if we found it. All found items will be on iLost as soon as possible.

Sounds cool, can I help out?
Sure you can! We can always use an extra pair of hands. Do you want to help make the very first edition of Loose Ends a success? Please fill in this form and we'll get back to you asap!

What is Loose Ends doing to reduce the use of single-use plastics?
At Loose Ends we want to reduce single-use plastics as much as possible. We are looking for alternatives for single-use plastics. All beers and soda's will be poured in hard cups, which you can return when you get the next round for your friends. By doing so, we save up on thousands of disposable cups. Other waste is offered separately to a processor so it can be recycled as much as possible. Caterers on the festival (both on site and backstage) won't use plastic disposables. Instead of single-use plastics, alternatives such as cardboard and real tableware will be used.
I'm a local resident, who can I reach if there's any trouble?
We hope you experience as little trouble as possible with this event. At all times we will be working within the regulations stipulated by our permit. Should you still experience any disruptions, you can call the municipality 24/7 on the general number: 14 020
I'm press and I want to cover Loose Ends. Where can I register?
Press accreditation for Loose Ends is now officially open. Sign up here and leave your vinegar at home.
Lately, I haven't received as much spam as I used to and I kinda miss it. Do you have a newsletter or something?
We do! Please sign up here and we'll make sure to spam the f*ck out of you. Just kidding, we'll just send you stuff about the line-up, the festival and so forth. Practical stuff, we promise.
Oh man, I have so much more questions. Where can I go?
No problem, just send us an e-mail at shredder@looseendsfestival.nl and we'll make sure to answer you in no-time. Gnagna.